Due to the class and performance schedule, availability of the auditorium and classrooms is extremely limited. We apologize that we are not able to accommodate non-academic use of the facilities.  Thank you for your understanding. 
Forms for Using the Setnor and Crouse Facilities
Event Request Form
For Syracuse University faculty, registered student organizations, or departments wishing to present an event: In order to review possible dates for your event, please complete the Event Request Form. This will help determine if the venue is appropriate and enough time is available for the event.  If the requested date is possible in the venue, Setnor Operations will contact you to arrange a meeting to discuss the event.
For those interested in a filming location on the Syracuse University campus or University-owned property for your upcoming production? The Campus Filming Office is part of the Office of Government and Community Relations and coordinates all aspects of commercial filming and photography for the University.  Please visit Campus Filming Office - Office of Government and Community Relations – Syracuse University
For Syracuse University student projects, in which faculty, registered student organizations, or departments wishing to film, photograph, or produce any type of media project in a space in Crouse College, please submit the following information, Media Project Building Usage Request Form
Reserving Campus Space
For anyone wishing to reserve other campus locations (spaces other than Setnor Auditorium)
Setnor Seating Plans: Capacity total, 660 (392 on the main floor, 268 in the balcony)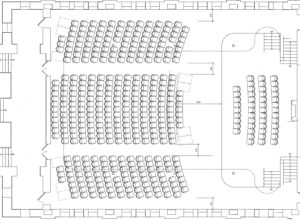 General Information
Event Parking
For most concert events in Setnor Auditorium, free and accessible concert parking is available on campus in the QUAD LOT (Q-1 lot).   When parking for concert events, please inform parking attendants that you are attending an event at Setnor Auditorium in Crouse College so they may direct you.
On dates when parking is restricted, instructions from Syracuse University Parking and Transit Services will be posted on the calendar page for the event, or patrons will be directed by parking attendants.
Lost and Found:  The Setnor School of Music is not responsible for lost or stolen items.  Items found in Crouse College will be placed in room 301.  Items not picked up within the week may be discarded. If you have lost a valuable item, you may call the office at 315-443-2191, or contact the Department of Public Safety at 315-443-2224 if you think it may have been lost on campus, as it may have been turned in to the main security office on campus.